TOP DENTAL IMPLANT QUESTIONS ANSWERED…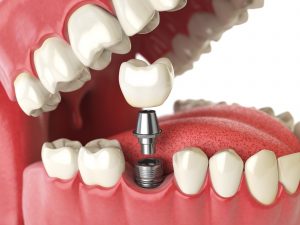 What are the benefits of dental implants? 
A dental implant is a great replacement for a missing tooth/teeth as it is the closest we can get to your natural tooth. The implant is fixed in the bone therefore acting as a root, and a crown or bridge is placed on top acting as the teeth. This is usually the ideal way to restore a gap/replace missing teeth and therefore help you smile and function with confidence!
What are Dental implants made out of? 
There are two components
1. The dental implant itself which is usually made from titanium. There is considerably evidence to show that titanium integrates/fuses with the bone and is biocompatible (accepted by our bodies) and is therefore fixed in place.
2. The crown that is placed on top of the implant is made from porcelain or high quality acrylic which mimics your natural tooth/teeth, allowing them to look natural and blend in.
How long does the dental implant procedure take?
Once you have decided to go ahead with the treatment, your first appointment is the placement of the implant itself. This will be carefully planned by the implant dentist, and a minimum of 2 hours is usually booked for this procedure. Thereafter you will need to allow healing time, this can be 3-6 months. During this period a temporary replacement tooth/teeth can be provided, so you do not have a gap. Once the implant has fused with the bone and is stable, the second stage would be to have the crown made and fitted. This is usually done over two appointments with two weeks in between each appointment.
How long do they last? 
It is important to take care of your implants and we would always advise a thorough daily home care regime and visits to the dental hygienists. This will help take care of them and ensure your dental implants last a very long time (typically 15-25 years plus, or even a lifetime). The crowns that are placed on the implants may wear over time, and these can be replaced without having to have the dental implant placed again.
Is there a cheaper alternative to dental implants? 
There will always be alternatives to any treatment, and not every case will be appropriate for dental implants. You can have a denture which is a removable appliance to replace teeth, or a dental bridge which is supported by other teeth in the mouth. All options have their benefits and risks, and in some cases what may be cheaper in the short term, could end up more expensive in the long term.  Your dentist will carry out a thorough assessment and advise you on all the options and help guide you to make the best decision for your individual needs. I would always advise you to take the time to consider ALL your options.
https://www.bassettdental.co.uk/treatmentcategory/dental-implants/